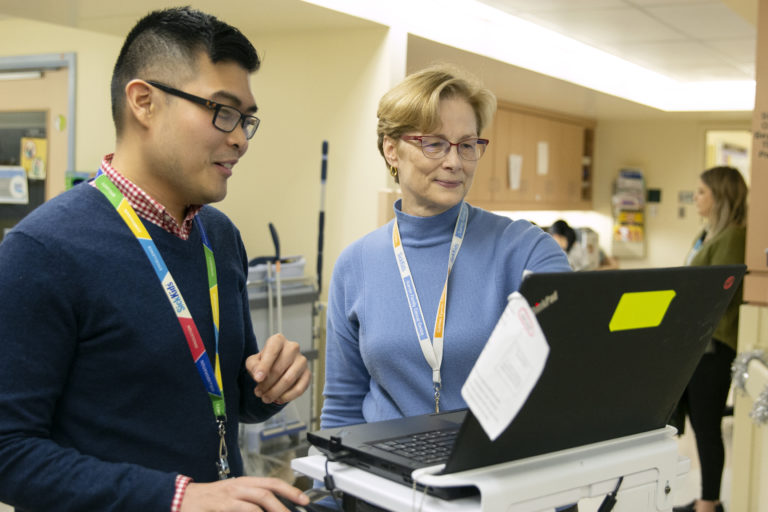 The Leslie Dan Faculty of Pharmacy at the University of Toronto is pleased to announce the launch a new Master of Science in Pharmacy (MScPhm) degree. This new degree program will  build on entry to practice degrees by developing future clinical academic leaders in pharmacy through a blend of advanced coursework, clinical and research training.
Beth Sproule, Associate Professor at Leslie Dan Faculty of Pharmacy and Clinician Scientist at the Centre for Addiction and Mental Health (CAMH) and with  Lee Dupuis, Associate Professor at Leslie Dan Faculty and Clinician Scientist at SickKids are co-leading the creation and administration of the new program.
In this Q&A, Professors Sproule and Dupuis discuss the highlights of the newly launched degree program and who should consider applying.
What is the goal of the new MScPhm degree?
We know that the education of Canadian pharmacists is evolving rapidly and, until recently, pharmacists in Canada entered the profession after completing a Bachelor of Science in Pharmacy program (BScPhm). Today, the entry-to-practice degree is the Doctor of Pharmacy (PharmD) with all Canadian pharmacy programs expected to complete the transition to this new degree by 2020.
At the same time, all post-PharmD programs in Canada have been either closed or replaced with bridging programs to allow practicing pharmacists with a baccalaureate degree to transition to a PharmD.  This transition has left a gap in our pharmacy education system as there is no longer a dedicated program for practicing pharmacists who are looking for the next challenge in their careers.
The goal of the new MScPhm degree is to fill that gap.  It will help prepare pharmacists who are eager to advance their skills by building upon their entry-to-practice degree programs and experience  with a view to becoming professional leaders, teachers and advanced practice clinicians. 
How is it different from current MSc programs in pharmacy?
The MScPhm program has been developed as an advanced professional practice program with a research-informed, scientific focus as the foundation of all components. Whereas, the current thesis based MSc program is more research intensive, the new MScPhm program brings together research training, graduate-level coursework, and advanced clinical learning.
The program is also designed to offer a deep dive into a chosen area of clinical practice. For example, MScPhm students can choose to focus on pediatrics, mental health, nephrology, or oncology, in alignment with the expertise of their graduate faculty supervisor.
What can students expect to learn?
Students in the MScPhm can expect to graduate from the program with an understanding of pharmacy practice principles and content knowledge that underpin the practice of an advanced medication therapy expert in a defined area of clinical practice. As valued members of patient care teams and as pharmacy practice researchers and educators, graduates will be prepared to influence the provision of pharmaceutical care at the patient and population level.
What is the time commitment?
This is a full-time, 24 month professional graduate program. The curriculum is comprised of three components with approximately 8 months dedicated to each: coursework, a clinical practicum, and a research project. Each student will have a primary supervisor and will be supported by an advisory committee.
A key feature of this program is flexibility and the scheduling of program activities will be tailored to meet the needs of each student as much as possible. For example, a student could be enrolled in courses while starting the clinical practicum if that presents the best opportunity for the student.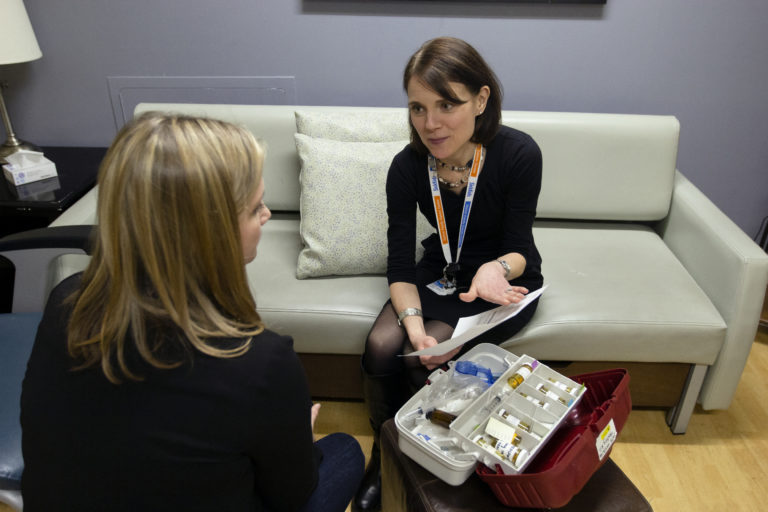 What are possible career paths following the completion of the degree?
We anticipate that graduates will go on to hold leadership roles in health care and academic settings. The program will enable graduates to advance pharmacy practice as leaders within their health care teams or organization, to influence best practices and policies in their clinical area of expertise, and to shape the development of future pharmacists through academic faculty positions.
Who should apply?
In terms of qualifications, we are looking for practicing pharmacists with a strong academic background and who hold a professional pharmacy degree from an accredited institution. Beyond that, we are looking for pharmacists with demonstrated leadership experience or potential, and a well-defined clinical area of interest. Applicants should be genuinely interested in and excited by the opportunity to help drive practice changes, improve clinical care, and shape the next generation of pharmacists.
When do applications open and what is the selection process?
Applications are now open for a January 2020 start date.
This program includes clinical and research work with a primary supervisor, and applicants are required to identify a clinical area of focus. We encourage applicants to reach out to potential supervisors early in the application process, although a supervisor is not required to apply.
Potential areas of focus for the 2019/20 academic year:
Adult Nephrology
Adult Oncology
Pediatric Oncology
Addiction and Mental Health
Program availability will be filled on an ongoing basis, with a tentative application deadline of October 1, 2019. All applications will be reviewed as they are submitted. Successful applicants will be contacted to schedule an interview.
To learn more about the new MScPhm, visit the program page.